GCAP Mobile

GCAP Mobile provides facilities engineers with an easy-to-use interface for common calculations they may need on the job. Calculations currently available with GCAP Mobile:
Calculate Barrels of Oil Equivalent for gas reservoir
Change temperature in degrees F to C and back
Change pressure in Bar to PSI to kPa and back
Change Standard cubic feet of gas to standard cubic meters of gas and reverse
GCAP Mobile also features the John M. Campbell & Co. 2010 Facilities Training Guide, so you can research training on-the-go.

Download GCAP Mobile from the iTunes store now!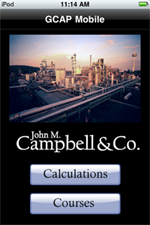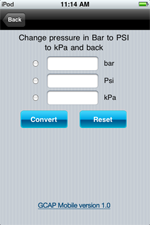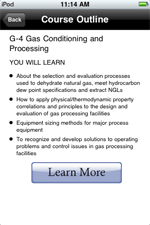 Coming soon!

The following calculations will be available in future versions of GCAP Mobile:
Calculate Gross heating value from MW
Calculate dry gas pressure drop in pipeline
Calculate total energy from a tanker of LNG
Simple calculation of gas capacity for a separator (d, mw,P, T, ks)
Water content in a gas at T & P
Hydrate formation T for a gas
Maximum pressure drop across a choke without forming hydrates
Liquid residence time in a separator
Calculate total revenue from a production facility
Calculate GPM of a gas
If you are experiencing problems with the GCAP Mobile application, please contact us at: info@jmcampbell.com or by phone at 405-321-1383.

Thank you, and we apologize for any inconvenience.